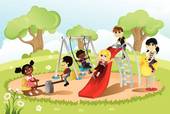 2013-2014
Physical Education Guidelines &
Discipline Plan
1. Students are required to follow the CES expectations and the
Playground Rules.
2. Please dress comfortably, upholding the CES dress code.
3. You must wear tennis shoes in order to participate
in P.E.
*Shoes such as, flip flops, sandals, boots, cleats, Sperrys, Crocs,
dress shoes etc., are not permitted!!
*If you are not wearing the proper footwear, you will lose 20pts for
nonparticipation.
4. If at any time you need to be excused from participating in P.E.
or cannot go outside, please bring a note from your
parent/guardian. A parent note is good for three days. After that, a
doctor's note must be sent. If you have a doctor's note, you may not
participate in P.E. until that doctor releases you. A new note must be
written by the doctor with the date of release for you to participate.
WITHOUT AN EXCUSE, YOU WILL BE EXPECTED TO PARTICIPATE IN P.E.
5. Personal toys, balls, or equipment may not be brought to class.
Grading System
The grading scale used for P.E. is as follows; S=70-100, N=60-69, and U=below 60.Your child's grade will be based on their participation. Each student begins the week with a score of 100. For every day they do not participate, 20pts will be deducted from that score.
Behavior Intervention System
The following intervention system will be implemented to help with inappropriate behaviors that do not support our school expectations & playground rules. If an inappropriate behavior occurs the following will take place:
1st A verbal Warning
2nd Placed in time out
3rd "Parent Alert" note sent home
4th Office Referral