Mrs. Catherine B. Connor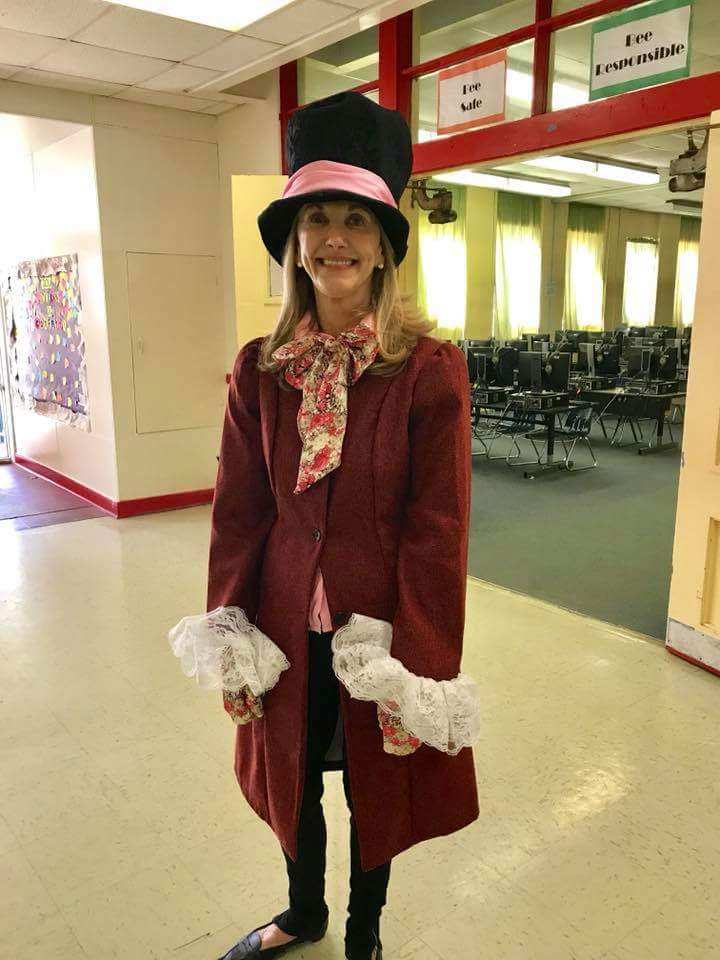 Mrs.Connor as the Mad Hatter from Alice in Wonderland
Thanks to all of our readers who helped make our Dr. Seuss Week 2018 the BEST one ever!!
Congratulations to these students who had the most AR points in their classes!
First Grade:
Blaylock-Wyatt Oliver**
Bryan-Gabriel Adkins
Cloud-Alexander Loving
Davis-Kyler Bushing
Durham-Daron Holmes
Mather (tie)-Adalynn Christmas & Rebekah King
McLane-Adonis Domingo
Mitchell-Charlie Dickson
O'Pry-Ava Bragg
Smith-Shakhia Cunningham
Sterrett-Beauti Smith
White-tie-Jaleigh Young
Second Grade:
Brooks-Tra'Vonta Harris
Folks-Jonathon Ray
Grimsley-E'shyia Gilbert
Hanstine (tie)-Peyton Nobles & Miller Brooke Wendt
Jenkins-Zoey Toole
Lockhart-Ny'aya Davis**
Mathis-Andrew Law
Nolen-Brooks Bethea
Pender-Ezra Poret
Rackley-Thadius Myrick
Rooks-Erin-Asia Thomas
A. Williams-Zaccheaus Bell
D. Williams-Ja'Niya Holmes
**Special Congratulations to the top readers for each grade:
First Grade: Wyatt Oliver (13.2 points) Mrs. Blaylock's room
Second Grade: Ny'aya Davis (23.3 points) Ms. Lockhart's room
We are so proud of these students and ALL of our AR students who met their AR goals!! Way to go!!
Dr. Seuss Week is coming soon!
Mon. Feb. 26-Fri. March 2. Check our homepage for all the details!!
Here is the link to Just Read, Florida! website to encourage taking 20 min. to read! Just Take 20 (JT20) is a Florida initiative to improve student achievement in reading and literacy by recognizing that literacy begins at home! JT20 gives parents an awareness of their essential role as well as knowledge and skill to deliver daily activities that promote literacy. JT20 provides a knowledge base of age-appropriate activities and habits that will ensure highly skilled readers, motivated to read and write in school, workplace and life.
The Media Center's Essential Question:
How can I become a better reader?
AR color codes:
Yellow-.1-1.9
Red-2.0-2.9
Blue-3.0-3.9
Green-4.0 and up
CHECK OUT OUR LINKS!! USEFUL INFO FOR HOME AND SCHOOL, AS WELL AS AR INFORMATION!!