Golson's Mission Statement:
BUILDING FOUNDATIONS
FOR ACADEMIC SUCCESS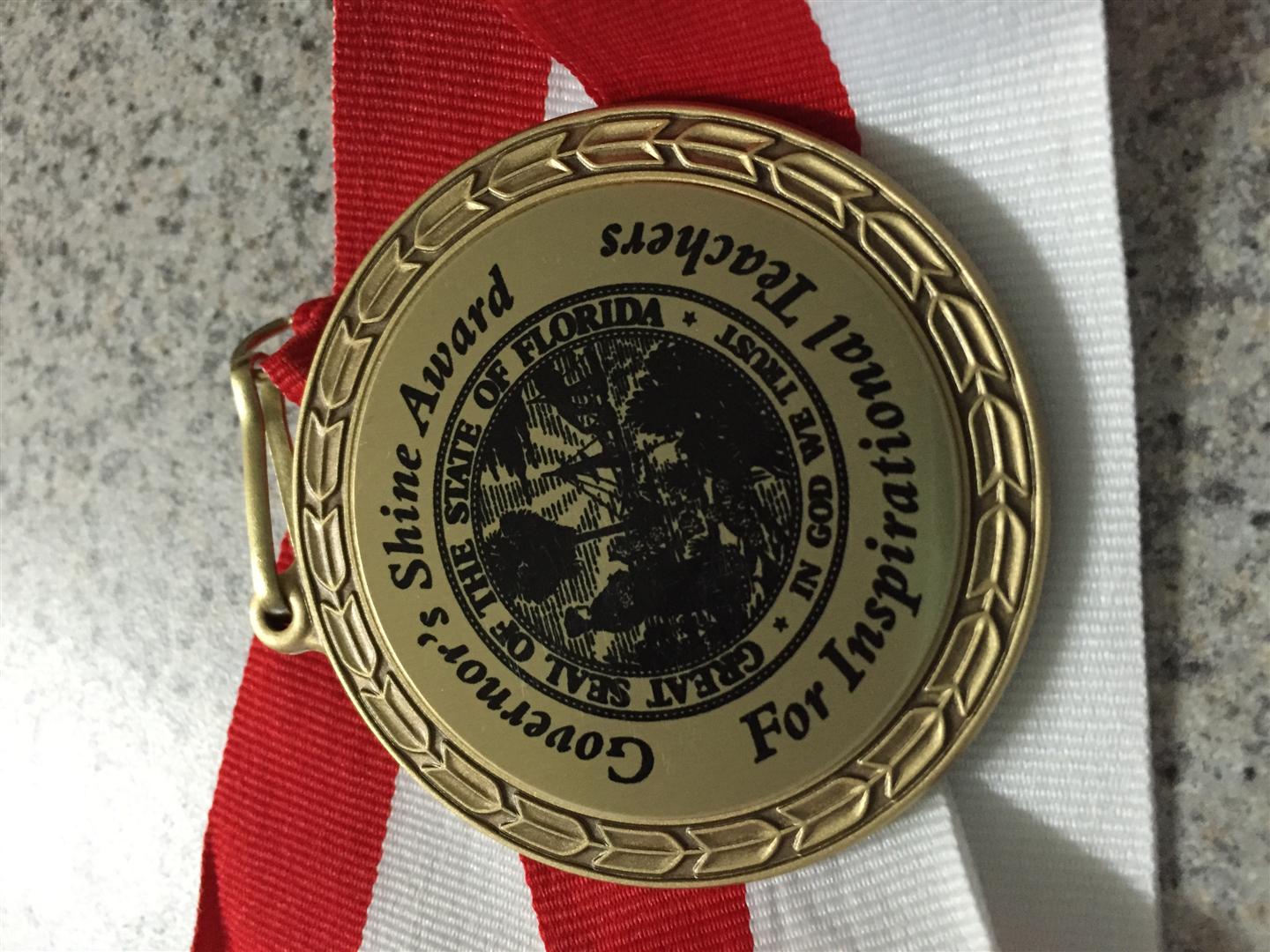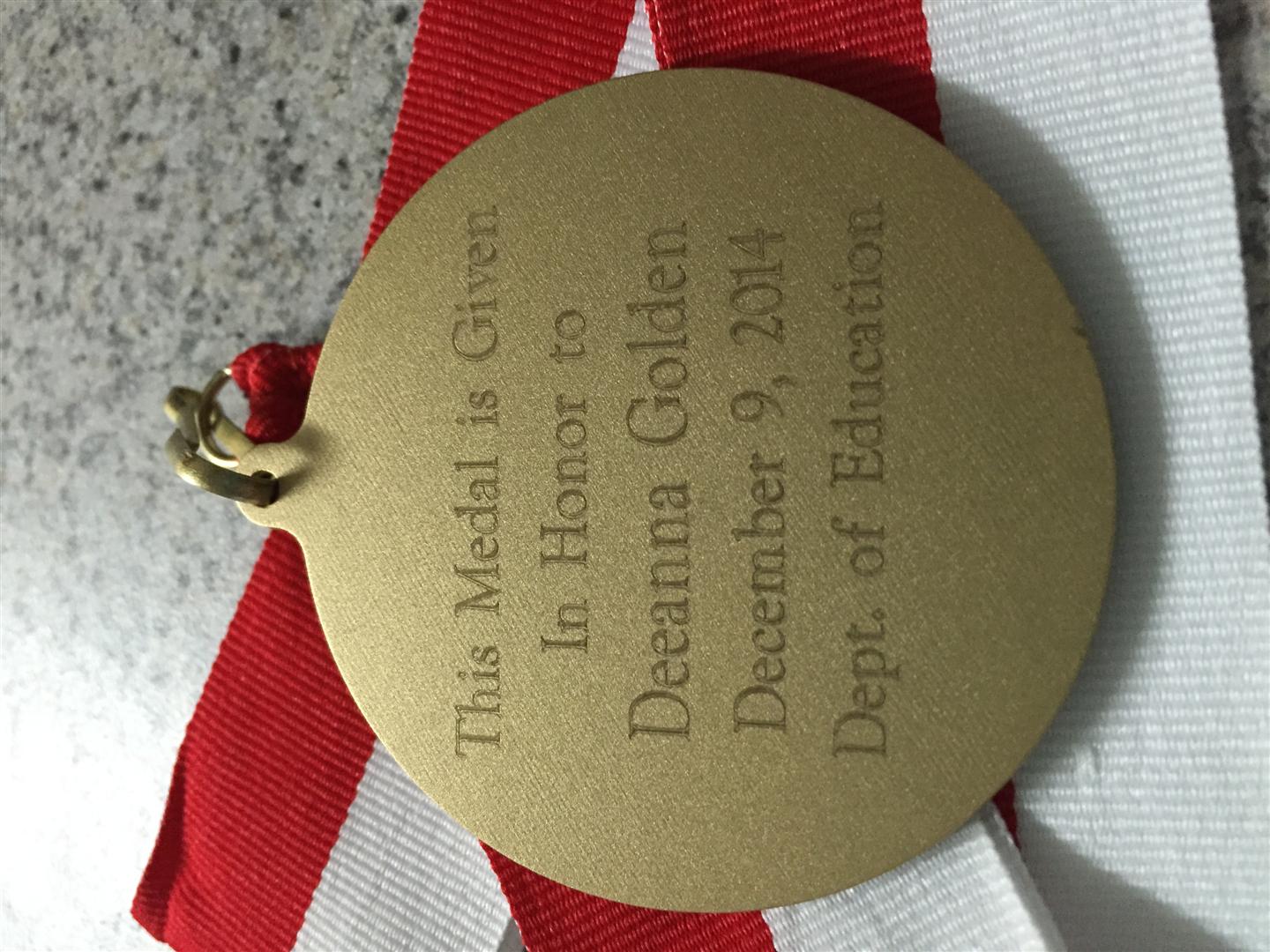 Deeanna Golden, our kindergarten teacher, and Golson's 2014-2015 Teacher of the Year, was honored on Tuesday, December 9th by Governor Rick Scott. Mrs. Golden was recognized with the Governor's Shine Award for her work in mathematics. Mrs. Golden was also recently honored with a national Presidential Award, and she is also Golson's Teacher of the Year.
Click on this link to read Gov. Scott's official press release:
http://www.flgov.com/2014/12/09/governor-scott-honors-nine-outstanding-stem-teachers-with-shine-awards/
Attorney General Pam Bondi, Gov. Rick Scott, Mrs. Deeanna Golden, Chief Financial Officer Jeff Atwater, & Agriculture Commissioner Adam Putnam at the awards ceremony.
F. M. Golson Announces Employees of the Year
Teacher of the Year
F. M. Golson Elementary and Principal Jennifer Hawthorne are proud to announce Mrs. Deeanna Golden as Golson's Teacher of the Year.
Mrs. Deeanna Golden is a graduate of Marianna High School and Chipola College. She also received a Bachelor of Arts degree in Early Childhood/Elementary Education from Troy State. In 1990, she received her first job in Jackson County teaching fourth grade at Grand Ridge School. In the fall of 1991, Mrs. Golden was hired at F. M. Golson Elementary as a kindergarten teacher, which she still teaches to this day.
This year has been an extraordinary year for Mrs. Deeanna Golden. She was notified that she had the most visited kindergarten through second grade lesson plan on the National Council of Teachers of Mathematics'' website, Illuminations. In September, the school learned that Mrs. Golden was one of three Florida finalist for the Presidential Award for Excellence in Mathematics and Science Teaching, which she will learn more about in 2015, and finally, Mrs. Golden was recognized by Governor Rick Scott two weeks ago at a Cabinet Meeting where she received the 2014 Governor's Shine Award.
"Words cannot express how much I respect and admire Mrs. Golden," says Dr. Jennifer Hawthorne. "When I observed Mrs. Golden and her colleague Ms. Vickie Plant's presentation at this year's state math conference, "This Ain't Your Mama's Math", it was surreal. I watched as teachers from all over the state took photos of our activities, took notes of everything that was presented, and wanted our teachers' websites. Mrs. Golden is a rock star, and it reminded me how lucky we are at Golson to work and learn side by side from her every day."
Mrs. Golden is married to Mr. Alan Golden and has three children, Blythe, Steffin, and Kaidd Golden.
Rookie Teacher of the Year
F. M. Golson Elementary and Principal Jennifer Hawthorne are proud to announce Mr. Daryl Williams as Golson's Rookie Teacher of the Year. Mr. Williams is a first year teacher.
Mr. Williams is a 1988 graduate of Chipley High School. He received his Bachelor of Science in Education from Troy University Dothan in 2014.
From 1988 until present, Mr. Williams has served active duty and National Guard in the U.S. Army as a musician with the 98th Army Band at Ft. Rucker and currently with the 151st Army Band out of Montgomery, National Guard Headquarters of Alabama. Both of Mr. Williams' parents, Allan and Becky Williams of Chipley, Florida are retired school teachers, and Mr. Williams' wife, Kim, is also a kindergarten teacher at Golson. Mr. Williams says, "Through the examples of my parents and wife, I have seen very positive and talented examples of what school teachers should be. I have had a desire to be a school teacher for years, and now I am accomplishing my dream."
After completing his degree and graduating this past May 2014, Daryl was very excited to be hired on at Golson Elementary School in first grade. "One of the most rewarding opportunities entering a classroom is being a positive male role model for the students, not only in my classroom, but in the entire school", said Mr. Williams. He adds, "Having the chance to teach at Golson, a school I have been involved with because of my children and substituting, has always been the desire of my heart, and I have really felt welcome and part of the team immediately."
Dr. Hawthorne, principal, added, "Daryl is not afraid to put in the work. He can often be seen on campus each afternoon into the evening making sure he knows his standards and curriculum. We are proud to have found and hired him!"
Mr. Williams lives in Marianna, Florida with his wife and two children, Colby and Kaydee.
Support Personnel Employee of the Year
F. M. Golson Elementary and Principal Jennifer Hawthorne are proud to announce Mrs. Susan Blanton as Golson's Support Personnel Employee of the Year.
Mrs.Blanton began working at Golson twenty years ago. She is the school's data entry operator. Mrs. Susan enters and withdraws students and prints attendance and report cards. She is also the head of Golson's Extended Day Program, and she can be seen helping in the front office daily.
Mrs. Blanton says of her job, "I love interacting with kids in the office and at lunch duty. I also enjoy speaking with parents and anything I can do to help make the school/home transition easy."
Mrs. Blanton previously received this honor in 2005. Dr. Hawthorne adds, "It's easy to understand why Mrs. Blanton would be recognized once again by her peers. She has given two decades to this school and does so with positivity and a smile. She is quick to help peers, parents, and students, and she goes above and beyond her data entry operator roles for the school.
Mrs. Susan Blanton is married to Mr. Travis Blanton, and they have two children, Chelsea and Shayne.