Golson's Mission
Statement:
BUILDING FOUNDATIONS
FOR ACADEMIC SUCCESS
Spring Break March 23-27, 2015
Congratulations to Mrs. Vickie Plant
Recipient of Gov. Rick Scott's "Shine Award"
for outstanding educators!!
Mrs. Plant joins Mrs. Deeanna Golden as Golson's second recipient for this honor in the 2014-2015 school year
Way to go ladies!!!
Mrs. Vickie Plant (left of Gov. Scott in white sweater) with other recipients & members of the Florida Cabinet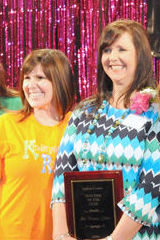 Mrs. Plant & Mrs. Golden
Child Find Pre-K Screenings
FDLRS/PAEC and the Jackson County School Board will co-sponsor screenings to identify children with special needs. Vision, hearing, speech, and developmental screenings will be provided for children ages 3-4 years who are suspected of having a disability and not enrolled in public school or Head Start.
2014-2015 Screening Schedule:
January 23, 2015
March 13, 2015
April 17, 2015
June 22, 2015
The screenings will be located at the Jackson County School Board ESE Office; the address is 4302 Liddon St.,
Marianna. The parent or legal guardian must provide permission for the child to participate in the screening. Screenings are by appointment only ---call 850-638-6131 x 2310 or email
beth_johnson@paec.org or adamsj@paec.org
The Florida Diagnostic and Learning Resources System is funded through IDEA Part B, Title II (Preschool), and State General Revenue Funds to provide support services for Florida's exceptional student education programs.